Category Archives:
Uncategorized
Mouthing Off Into The Tempest
Local blogger and outspoken activist David Prestidge wrote an interesting blog piece today which I thought merited some analysis.  I'm going to make some broad assumptions about the intent and meaning of the piece, but these are my own observations and I make no claim to know for sure what he was or was not trying to say.
Nevertheless, in the spirit of debate I thought it would be interesting to do.  You can read his original blog piece here.  http://wisbechcommunityforum.blogspot.co.uk/  ( I can't find a way to link directly to the blog post as his blog infrastructure doesn't seem to have separate post pages, so if you read this much later than 17th July 2013 the link may lead you to a newer piece.  So if you're confused, that's why!)
Mr. Prestidge says:

BLOGGING IS A PECULIAR PASTIME. It presupposes so many things. Firstly, that the blogger has something valuable or entertaining to say. Secondly, that the blogger suspects there might be an audience for what he or she has to say. In the absence of anything more productive to do, some bloggers actually seem intent on making a living out of their effort, by attracting advertisers and niche marketers to their site.
Is that right?  I don't think it presupposes anything.  Blogging is simply an online diary, journal or series of articles (or some combination thereof)  that is available for the world to see.  Bloggers might hope that what they write will be useful, interesting or provocative but I doubt many "presuppose" anything about it.  Personally, I'm of the view that it's a pretty healthy thing for people to write creatively, to express themselves, to share ideas and to challenge one another – whether you're any good at it or not, and whether anybody reads it or not.
Nor do I think that bloggers presume there is an audience for what they write.  Though, again, I imagine they hope that there are kindred spirits, like minds, or just friendly people out there who might get something, whatever that something is, out of their action of pouring their heart and mind into (digital) print.
Mr Prestidge says:  REJECTED POLITICIANS are a particular sub-species of blogger. Long after they have faded from public view, they stand like some M&S-suited King Lear, mouthing off into the tempest, resolute in the belief that their election defeat was an aberration, and that they still have an audience.
Well, I suppose he means people like Nick Clarke.  Goodness, he might even mean me also.  I expect there will be a few tear-streaked nights of heartbroken sobbing, but I reckon we'll all just have to learn to live with his disapproval.
By the by, I don't think I own any M&S suits, though I wouldn't consider myself too good to wear one.  I would be frankly amazed if Nick Clarke owned any M&S suits, but having a fixation with men's wardrobes isn't my thing so I don't know for sure.  I'm not sure why it concerns Mr. Prestidge or what his point is, but: "time shall unfold what plighted cunning hides, who covers faults, at last shame them derides," as they say.  : )
I did think that it was an interesting position though.  Is Mr. Prestidge suggesting that somebody who has been an elected politician should withdraw from local life if they lose an election?  That they are no longer allowed to blog or whatever else offends his sensibilities?  Because Cllr Lay and Cllr Clapp and Cllr Bucknor and most other local politicians who've been involved in local politics for a while have all lost elections.  Quite a lot of them, actually.  The nature of politics is you win some you lose some.  To believe that you are then useless to your community and to go and sulk for years would be, in my very humble opinion, pretty weak.  To believe you don't have a right to express your opinion in a blog would be very odd indeed.
Then Mr. prestidge says: BUT WAIT…Is not this a blog? Is Pickwick not guilty of the same hubris and self-importance that he criticises others for? Guilty as charged, m'lud. Yes, of course I am. I love words. I love writing them much more than I love saying them. Think of this blog as little more than an elderly gent sitting in front of a recording device, and emptying his thoughts in your general direction. Bloggers are the digital inheritors of the mantle of generations of eccentrics and losers who have stood on boxes in Hyde Park, and berated their deriding audience.
Obviously Mr Prestidge knows himself the best.  But personally I think he does himself a disservice.  I don't believe for one minute that his blog is ego-driven.  I think it's fair to say that Mr Prestidge doesn't much care for me (and I have no great fondness for him either), but I do think his blog is well-written, interesting and thoughtful.  That can't possibly be a bad thing, can it?  I don't see blogging as a direct descendant of Hyde Park speakers precisely, though I love that analogy.  I think, as a whole movement, it's bigger than that. It encompasses the old-fashioned writing of letters, the writing of pamphlets, the writing of personal diaries, amateur journalism, comedy, debate, as well as speech-making and rabble rousing.  And its more besides – it's a new thing that combines all of this and more.  It has its own place and it is still growing into whatever it will become in the future.  I think it's great, even if I personally am not particularly good at it.
Next, Mr. Prestidge says: POLITICS AND MORALITY DIVIDE US ALL. Everyone has the answer. No-one has the workable solution, despite what they say, tweet and blog. I grew up in a working class family with strongly traditional values. You didn't lie, you didn't cheat, you played fair, and you voted Labour, even if the rich bastards three streets away were getting away with all sorts, because they 'knew people', and were smart with their investments. I was lucky enough, and clever enough to go to a Grammar School, where I was taught discipline, perseverance, and – most importantly – that 'self' didn't matter. You did things because they were right or because they benefited other people. You opened the door for ladies, gave up your seat on the bus, and were generally what modern class warriors would call an Uncle Tom.
I always enjoy when people go to great effort to tell us how working class their background is.  Or how traditional their values are.  In fact, pretty much everybody I know would make much the same claim.  I was born into a working class family too, though my parents worked their way up into what would probably be called middle class as I was growing up.  But so did David Prestidge, because he was a teacher, which is generally considered to be a middle class profession.
My family also had (and still have) pretty traditional values.  Though what any two people mean by traditional will be different, of course.  We didn't lie or cheat and we also played fair, though we voted Conservative because we believed it was the party for people who aspired to be more than the state and class labels that were stuck on their heads.   However, we didn't call those who had different views to (or a little more money than) us "bastards."  So there's that.
I still open doors for ladies and give my seat up on the rare occasion that I use public transport – though such things are no longer political acceptable to everybody.  I'm not sure what Mr Prestidge's paragraph is supposed to prove unless its: "My arguments must be right because look what a nice guy I am."  Except, in my opinion, quite a lot of people from all walks of life are still genuinely nice, decent folk.  I don't believe it's as rare as this paragraph seems to suggest.
In full lament, Mr Prestidge goes on to say: WHERE IN THE WORLD HAS THIS LEFT ME? Basically on a desert island, along with a few other gentle souls who were brought up to be God Fearing, respectful (where it was due) and polite despite provocation. Politically, no party seems to understand my heritage. The Labour party is a lost cause. Conservatives are the Devil's Spawn. UKIP? – they come closest to embodying what I feel about life and responsibility, but they are a candle in the wind, hamstrung with fascist baggage and beset by unchallenged schoolboy reporting by the mainstream media.
I suspect that most people, when they see themselves in their minds eye, envision just this sort of tragic hero – struggling against an unfair world that doesn't understand them and would be so much better if only people would just listen.  I'm sure many would envision themselves as a "gentle soul."  How everybody else sees each individual is probably not quite the same.  Some will see you even brighter, some will look at what you've said and done and just wonder how you can sleep at night.   I suppose, in the end, it's all about perceptions.  But we can, each one of us, just do our best to be true to what we believe, try to be humble about our failings and work hard to be better in the future.
For what it's worth, I wish more councillors, ex-councillors, activists and regular folk would blog.  About whatever interests them, earnestly and honestly from the heart.  Whether they "mouth off into the tempest" or just whisper deliciously into the breeze.  Creative writing is a good thing*.  Long may it continue.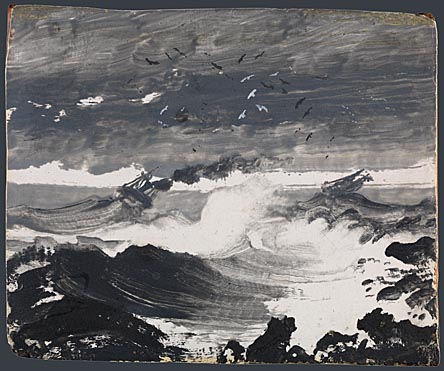 *With the possible exception of the local press. : )